Positive Signs for PaintExpo 2024
Registrations for the world's leading trade fair for industrial coating technology are already at an excellent level about one year before the next edition of the event opens its doors. From 9 to 12 April 2024, PaintExpo will once again be providing a global showcase for the latest trends in industrial coating. The who's who of the coating technology industry exhibits at PaintExpo 2024 in Karlsruhe.
With around 430 exhibitors from 27 countries and more than 9,000 trade visitors from 57 countries, PaintExpo was successfully restarted in 2022 following the pandemic break. More than one in three exhibitors travelled from abroad. Visitors included a large number of key decision-makers, specialists and managers, with around 90 per cent of visitors to the previous PaintExpo able to influence investment decisions in their companies.
Preparations for PaintExpo 2024 are in full swing. With about one year still to go before the trade fair opens its doors, around 280 companies have registered and more than 80 per cent of the exhibition space of the previous event is already sold. "The response from the industry has been great. This clearly confirms that PaintExpo is a well-positioned, must-attend event for everyone in the industry. In April of next year, PaintExpo will once again serve as a worldwide showcase for innovations and future technologies as well as providing a platform for practical solutions in industrial coating technology," says Markus Geisenberger, Chief Executive Officer of Leipziger Messe. Registration information can be requested here .
Key Industry Players, Interesting New Exhibitors, High International Participation
Global market and technology leaders will join innovative medium-sized companies in three exhibition halls at this world's leading trade fair to present their latest products and applications in industrial coating technology. Exhibitors will include important industry players from Germany and abroad such as Axalta, DeFelsko, Dürr, Eisenmann, FreiLacke, Gema Switzerland, J. Wagner, Krautzberger, Louis Schierholz, Nordson, PPG and Venjakob. In addition, interesting new exhibitors were also convinced by the trade fair concept: Among those in Karlsruhe presenting their range of products and services for the first time at PaintExpo will be Mitsuda, a Turkish supplier of cleaning and pretreatment technology.
The coming edition of PaintExpo also has a lot to offer internationally: Most exhibitors will be from Western European countries. Alongside Germany, they will be primarily from Italy, Switzerland, Austria, the Netherlands and Spain. However, companies from countries such as Turkey and Greece have also already booked their stands. The proportion of international exhibitors is – as of today – around 40 per cent.
Full Spectrum of Industrial Coating
The products and services on display at PaintExpo cover the full spectrum of industrial coating. Next year, the range of exhibits will again include surface treatment solutions, quality assurance, paints and paint finishing lines as well as powders and powder coating systems. The industry platform offers a comprehensive package of coating solutions for all industries, applications and materials, from wet coating and powder coating to coil coating.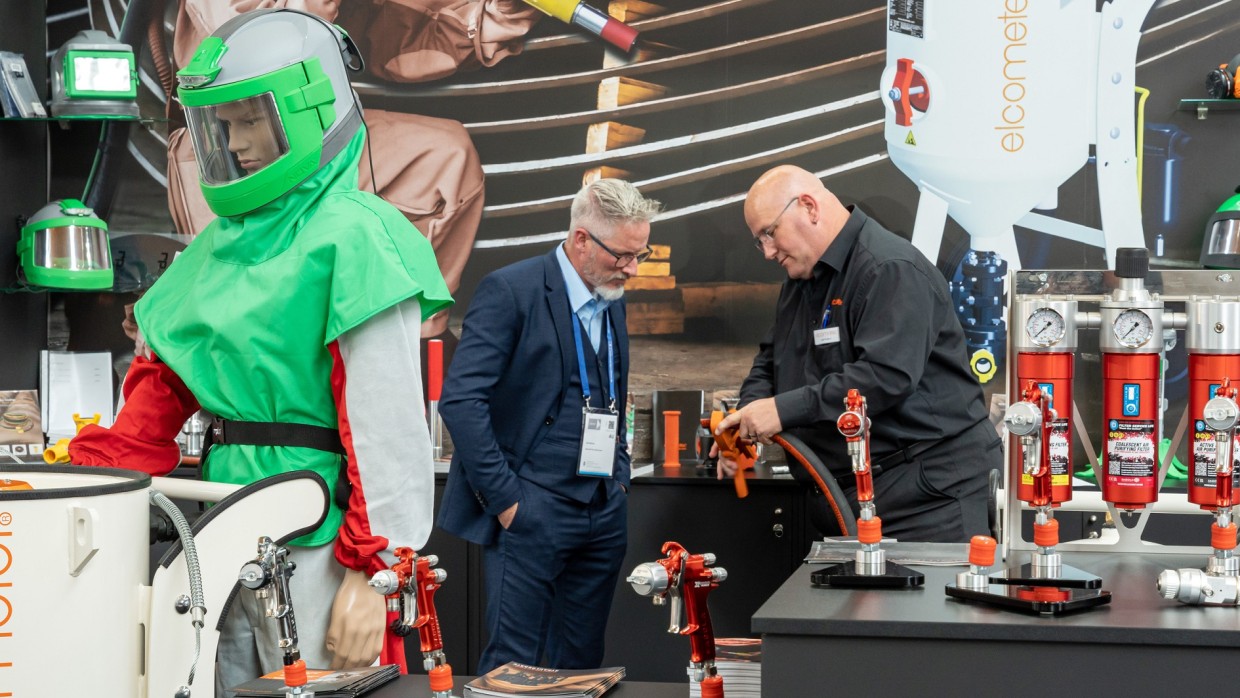 Back to all news